FAC kontakt: FAC division News
The magazine FAC Kontakt was first published in september 1958 by the Transitoria Trading Company, a previous owner of the FAC System. Editor of the magazine was Mark Sylwan. Only 3 issues have been published over the time in at least 3 different languages: swedish, german and english. As for the english periodical the title was not called "FAC kontakt", but "FACTS about FAC".
The intention of the editor of this magazine was to exchange ideas and experiences with the FAC system. Very intriging models have been published in this magazine, together with some new construction principles. Each magazine starts with a general description of a model and an interview with it's designer(s). This concept is today adapted by many techinal periodicals.
It's unknown why further publication after 1960 stopped.
Click on the picture to download the periodicals
Another interesting periodical was called FAC News, published by the sole US FAC importer Overseas Commodex Inc. It's unknowm to me how many issues were published. Apart from their own publications, Overseas Commodex Inc. promoted the FAC System also through the well known magazine "Popular Mechanics".
Any reader who has more info regarding to this subject is welcome to contact the author of this site.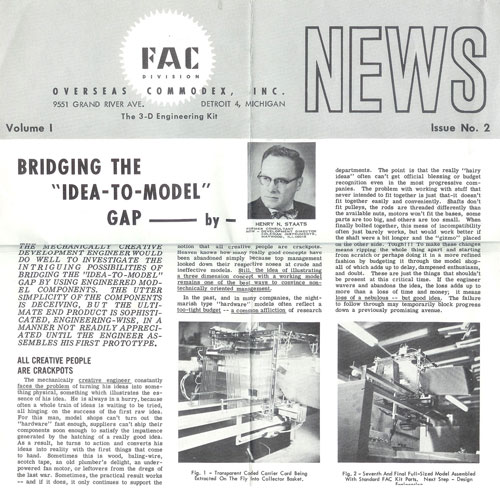 Click on the picture to download the periodical.