FAC system long clamp, partnr. 1631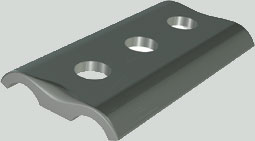 The latest version of the long clamp, partnr. 1631 has 3 holes in it's body. The now obsolete version of partnr. 1631 was 1631pl (plastic), see below.
The plastic clamps can be used to incluse beams which have been placed perpendicular to each other.
The modern long clamp cannot be used for this purpose. See also following proposal.